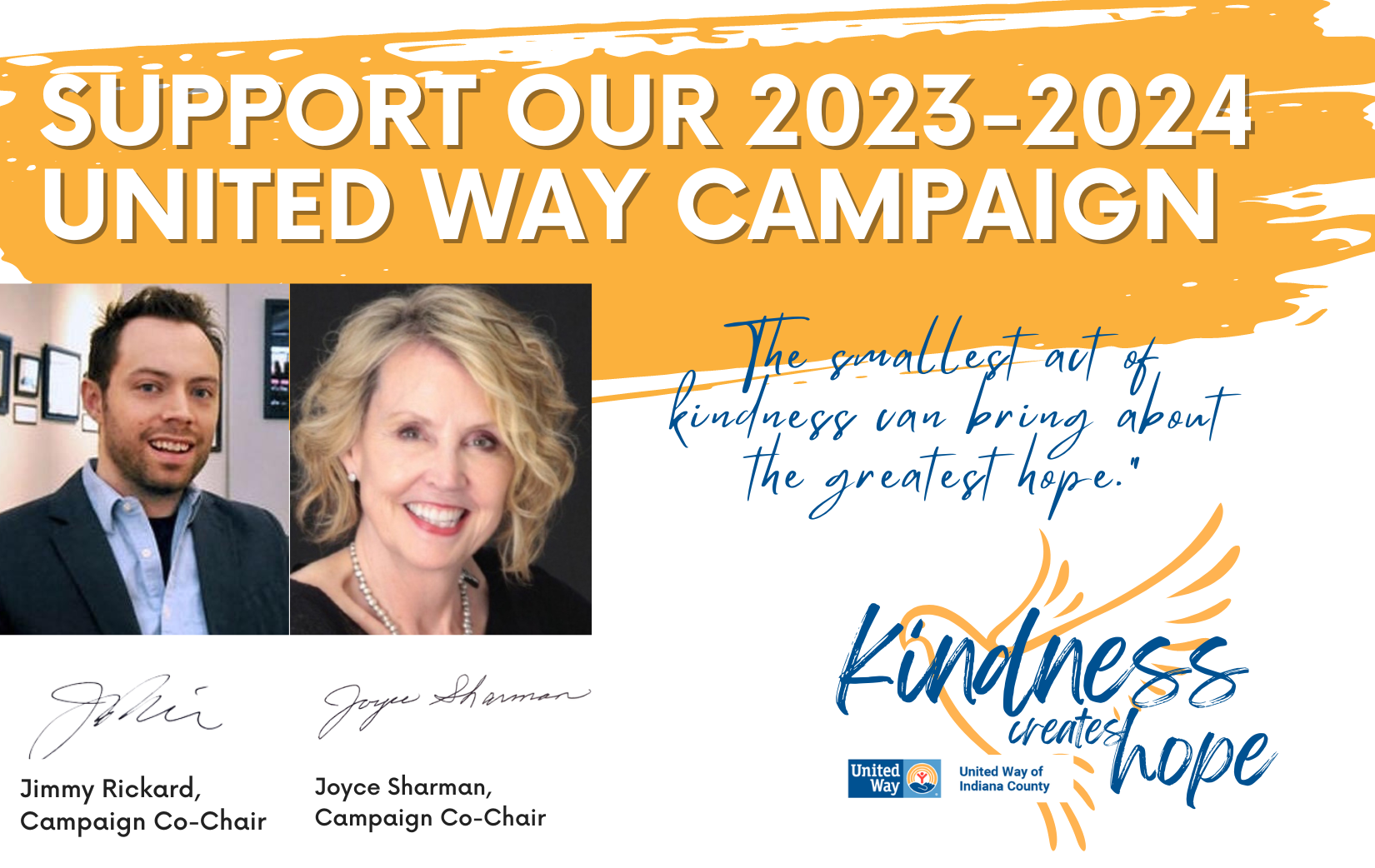 "When we think of our hope for Indiana County, it's not only basic needs being met, but also our friends, neighbors, and community thriving. Kindness Creates Hope. The smallest acts of kindness can bring about the greatest hope. The local United Way brings immeasurable hope to so many, and we are honored to be even the smallest part of it."
The United Way of Indiana County is committed to improving the health, education, and financial stability of our community. We envision a community where people thrive, live healthy lives, and everyone has the opportunity to reach their full potential.
Last year's fundraising campaign engaged 4,786 donors, 174 corporate/company donors, 152 leadership donors, and 665 volunteers, supported over 165 programs, and our work continues to grow. Join in on the action of this year's Kindness Creates Hope Campaign and check out our upcoming events!
Events:
Campaign Kickoff | Pancake & Sausage Day | Turkeython | Ryan Shazier Event | Souper Bowl | Annual Community Campaign Celebration 
Follow our Facebook page to stay up to date or sign up for our Newsletter! 
The United Way of Indiana County invests in education, financial stability, and health programs providing support for the building blocks to a healthy life and stable community. Last year's, Building Bridges to Brighter Futures campaign, helped support over 157 donor-designated and approved allocation organizations, investing over $618,400 to local nonprofit organizations that support the UWIC's mission. 
COMMUNITY INVESTMENTS
accessAbilities: Home and Community Service for Adults 

Alice Paul House: Victim Advocacy and Shelter Program

Camp Orenda: Summer Health Camp for Persons with Disabilities

Chevy Chase Community Center: Community Kitchen and Financial Assistance for Utilities, Rent, and Mortgage

Head Start - Financial Assistance and Behavioral Management Coaching

Indiana County Community Action Program - Financial Assistance for Utilities, Rent, and Mortgage

Lifesteps: Family Care Mobile Resource Center & Child Check Program

Salvation Army: Summer Day Camp, Ark of Learning, & Comprehensive Emergency Assistance

Singlecare

The Open Door: Emotional Freedom Tapping 

YMCA: Summer Day Camp Wellness, Big Hearts Little Hands, & Educational Support Program

211 - a 24-hour resource helpline serving Indiana County/connecting individuals to help and support in Indiana County

Turkeython - providing holiday meals to children, families, and veterans throughout the county

Emergency Food and Shelter - funding to expand community support in food, shelter, rent/mortgage, and utility assistance. Agencies include Chevy Chase Community Center, Alice Paul House, Indiana County Community Action Program, and The Salvation Army.

Summer Grants -

Aging Services - Passport to Wellness

Alice Paul House - Support with Style

Chevy Chase Community Center - CPR & AED Training

Children's Advisory Commission of Indiana County

- Family Nature Palooza
County of Indiana - Critical Incident Stress Management Team Training
Cummings Family Foundation - Dolly Parton's Imagination Library 
F.A.V.O.R Western Pa, Bolivar Community Center - Kids Krew and Parents Cafe
Indiana County Farmers Market - Matching Market Money
Indiana County Public Safety Academy - Flashover Recognition and Survival Course
The Care Center - Raising Healthy Children
VNA - Hopeful Hearts
​TOGETHER, WE ARE BUILDING COMMUNITY AND IMPROVING LIVES!  FOR MORE INFORMATION ABOUT OUR WORK, CLICK HERE!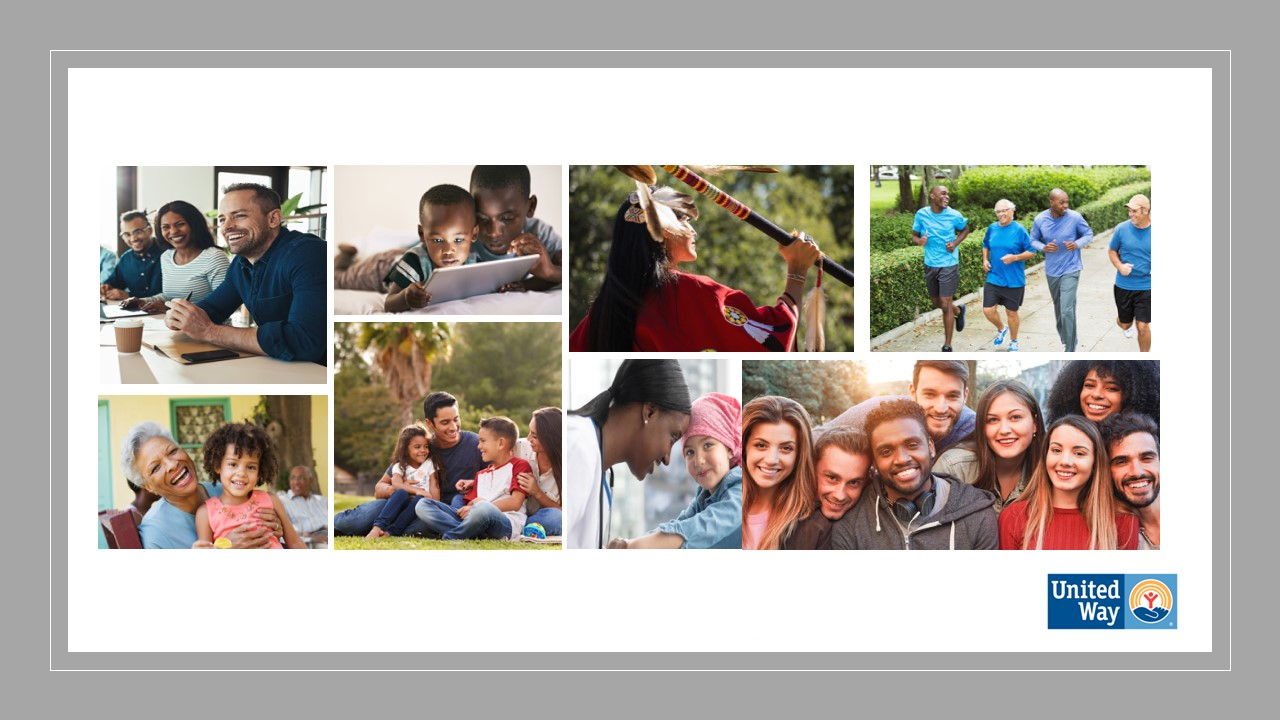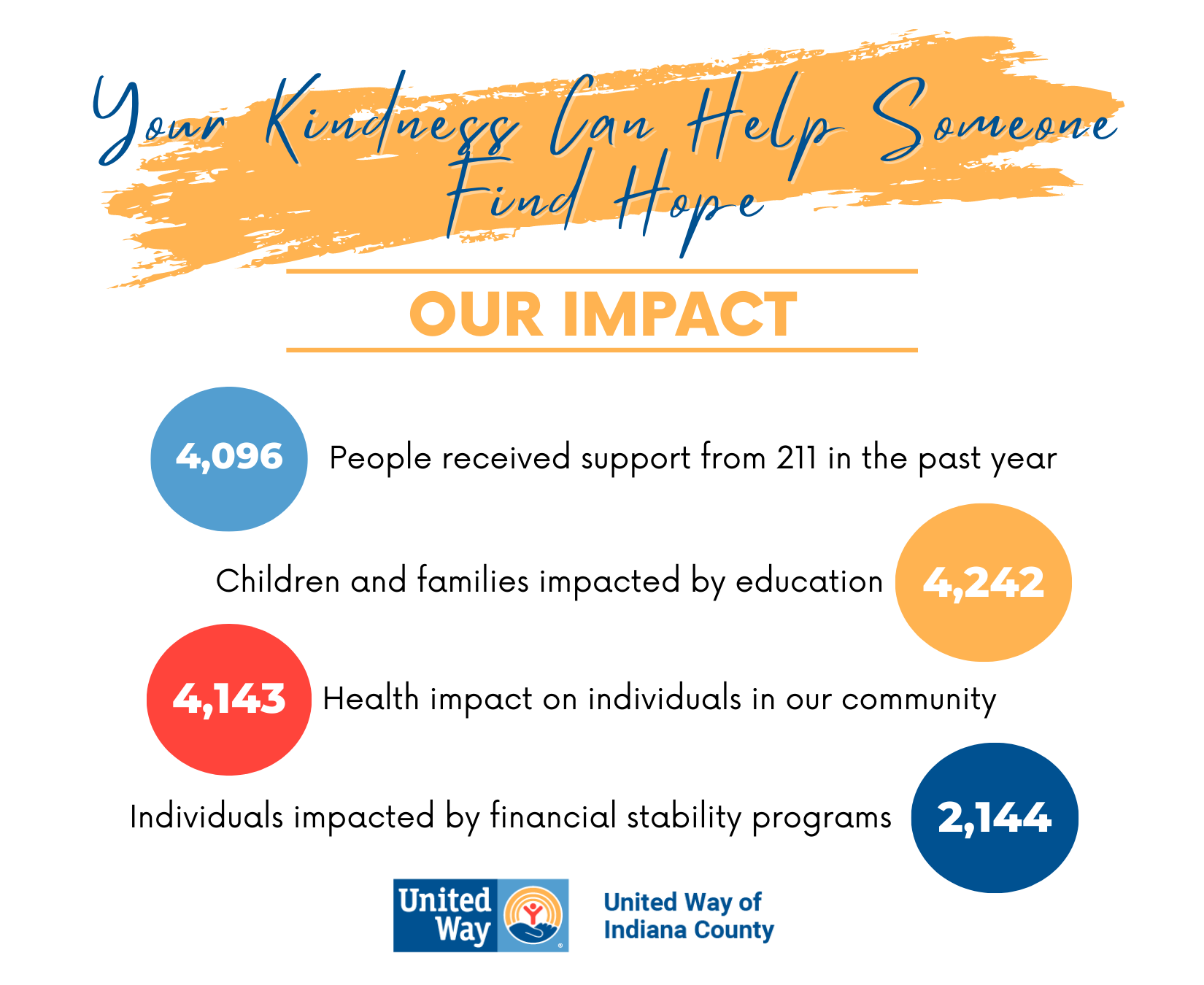 COMMUNITY IMPACT INIITIATIVES 
Supporting social-emotional health in our youth through the Promoting Alternative Thinking Strategies (PATHS) Program
Investing in our community's youth and promoting healthy youth development while reducing at-risk behaviors through the Prevention Coalition of Indiana County
The Prevention Coalition of Indiana County will be giving particular attention to implementing strategies or programs to address the following:

students' psychological, emotional, physical, and social well-being 
internet safety
vaping education
commitment to school
and opportunities for prosocial involvement

Investing in the "Handle with Care" which is a trauma-informed collaboration between schools and local law enforcement, fire departments, first responders, etc. This system provides a "heads up" when a child has been identified at the scene of a traumatic event. The confidential referral, through an online portal of the Safe2Say system, will allow educators to provide additional support, extra time, patience, and help throughout the school day.
Your investment not only helps to create brighter futures but it will also qualify you to receive a ticket for our campaign raffle. There are two levels of tickets available. All contributors who donate at least $50 to the United Way of Indiana County prior to campaign close will receive a ticket for entry into Tier 1 level prizes. The ticket value for Tier 1 prizes is $.84. All contributors who donate at least $208 per year to the United Way of Indiana County prior to the campaign close will receive a ticket for Tier 1, Tier 2, and Grand Prize levels. The ticket value for Tier 2 prizes is $18.50. No cash equivalent will be provided in lieu of receipt of any prize announced. The drawing will take place on February 15, 2024. 
For official rules and regulations, please visit www.uwindianacounty.org/campaignraffle. 
Small Games of Chance #20191118  |  Special Raffle Permit # 
GRAND PRIZE
Trip Package Valued at $2,500 - Donated by Colonial Motor Mart, Colonial Toyota and Mark Arbuckle Nissan
TIER ONE
Blink Doorbell from Lowe's 
Overnight Stay at Hilton Garden Inn & Gift Certificate to CH Fields Craft Kitchen - Donated by Hilton Garden Inn & CH Fields Craft Kitchen
Decorative Concrete Garden Bench - Donated by ICTC
Lucy Rae Gift Basket - Donated by Lucy Rae
​TIER TWO
​Blackstone 36" Griddle - Donated by Romeo's Pizzeria & Mediterranean Kitchen
50" Smart TV - Donated by Reliant Holdings, Inc
Gas Patio Heater - Donated by Lowe's
2024 Family Pool Pass for Mack Park - Donated by YMCA