Hi! We're Chris Adams and Amanda Hilliard. We are so excited to have the roles of United Way of Indiana County Campaign Co-Chairs this year.
Like many of you, we're both very attached to Indiana County. We've made our homes here, have found meaningful work here, and are raising our kids here.
When we're not on a ballfield or ice rink, we keep busy enjoying local events, supporting our Indiana County restaurants and small businesses, as well as, enjoying local adventures.
While our lives are full of opportunities, we also get a glimpse of need. It's not subtle or isolated. It exists in every pocket of our county. Too many families not making ends meet. Too many kids are without healthy lifestyles.
With need, comes the chance for change and impact and improvement. We've observed that there are gaps to bridge through all Indiana County communities so that more families can have access to resources that help them have their basic needs met.
In our roles with the United Way of Indiana County, we want to help bridge those gaps. That's one of the reasons the theme for this year's fundraising campaign is "Building Bridges to Brighter Futures." We believe that building the bridges that create and connect a network of communities, schools, leaders, and donors from all areas of Indiana County can help us work together to fulfill the needs of our neighbors now and in the future.
We are proud to represent this year's United Way campaign, and we invite you to help us create a difference in Indiana County by making your donation today!
Events: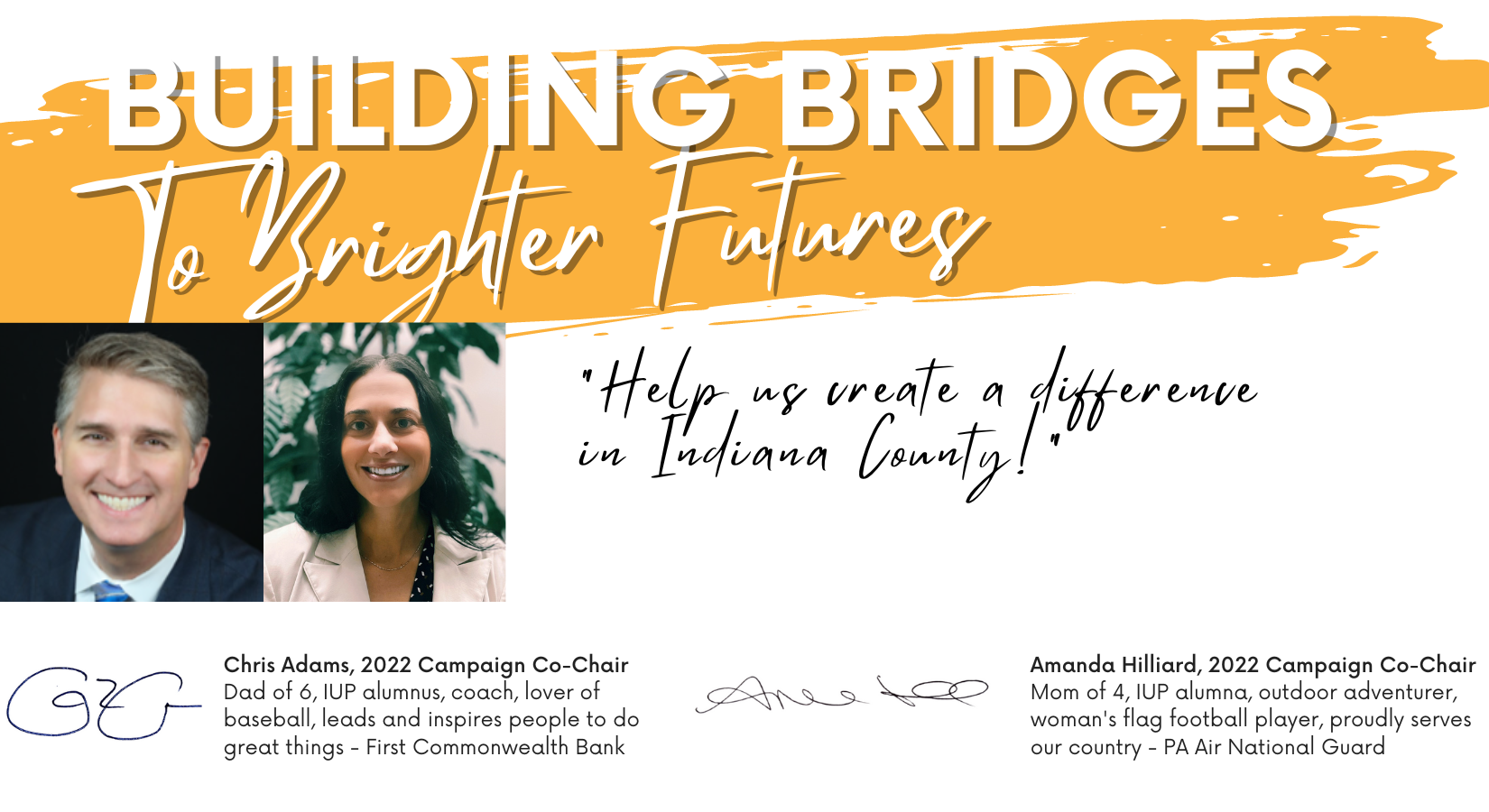 ​The United Way of Indiana County is committed to improving the health, education, and financial stability of our community. We envision a community where people thrive, live healthy lives, and everyone has the opportunity to reach their full potential.
COMMUNITY INVESTMENTS
​211 - 24/7 lifeline for people seeking supportive services
accessAbilities - Home Support for Seniors
Alice Paul House - Victim Advocacy and Shelter, Healthy Kids Carnival, Meal Services, Financial Assistance for Utilities, Rent, and Mortgage
American Red Cross - Disaster Services
Burrell Township Library - Child and Caregiver Programming
Camp Orenda - Mental Health Camp for Individuals with Disabilities
Chevy Chase Community Center - Community Meals
Children's Advisory Commission of Indiana County - Annual Family Fun Fest
Communities That Care Prevention Coalition
County of Indiana - Critical Incident Stress Management Team Training
Girl Scouts - Scholarships
Head Start - Behavior Management Staff Coaching Curriculum
Indiana County School Districts - Promoting Alternative Thinking Strategies (PATHS)
Indiana County 4-H Clubs - 4-H Discovery Day Camp
Indiana County Community Action Program - Power Pack Program, Client Transportation, and Financial Assistance for Utilities, Rent, and Mortgage
Indiana Recovery Center - Recovery Capital Assessment and Fundamental Goals of Health, Education, and Financial Stability
Laurel Highlands BSA - Scholarships
Lifesteps - Family Care Mobile Resource Center and Child Check Program
Salvation Army - Summer Day Camp, Comprehensive Emergency Assistance, Financial Assistance for Food, Utilites, Rent, and Morgage
The Care Center - Raising Healthy Kids
The Open Door - Addiction Services
VNA
YMCA - Adapted Sports, Anti-Hunger Food Program, Summer Day Camp Wellness, Big Heart, Little Hands
​TOGETHER, WE ARE BUILDING COMMUNITY AND IMPROVING LIVES!  FOR MORE INFORMATION ABOUT OUR WORK, VISIT WWW.UWINDIANACOUNTY.ORG.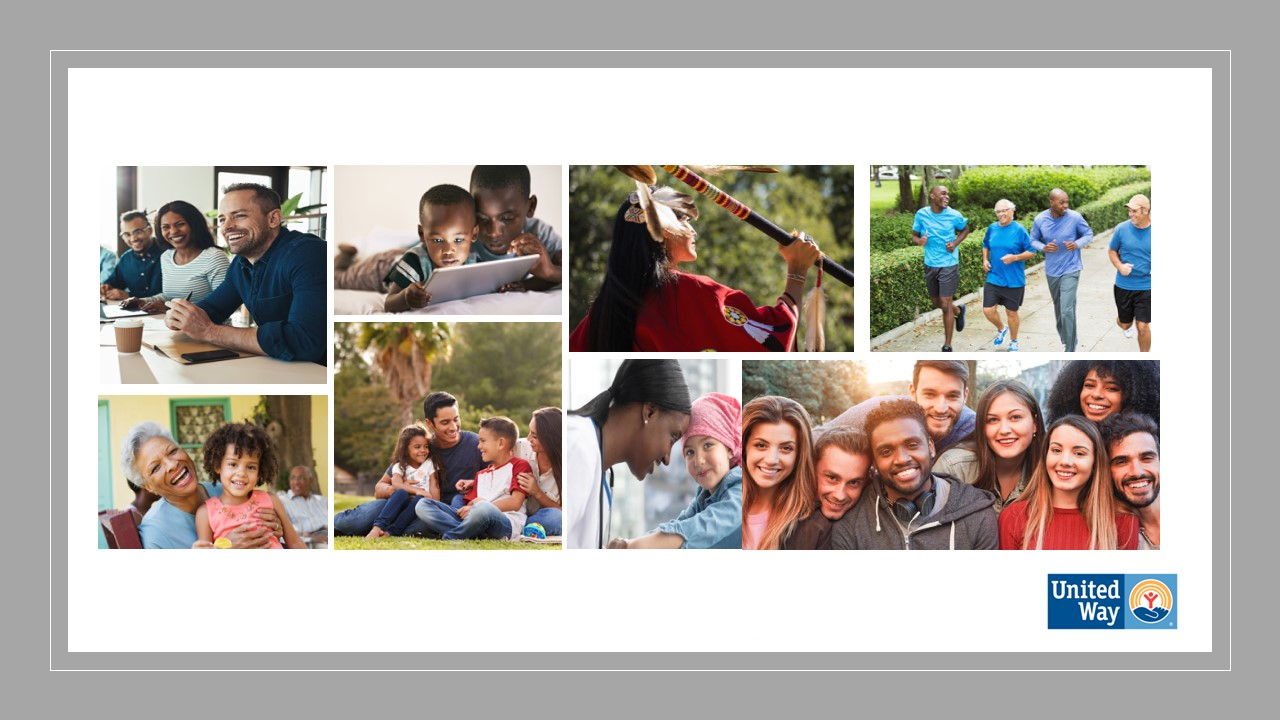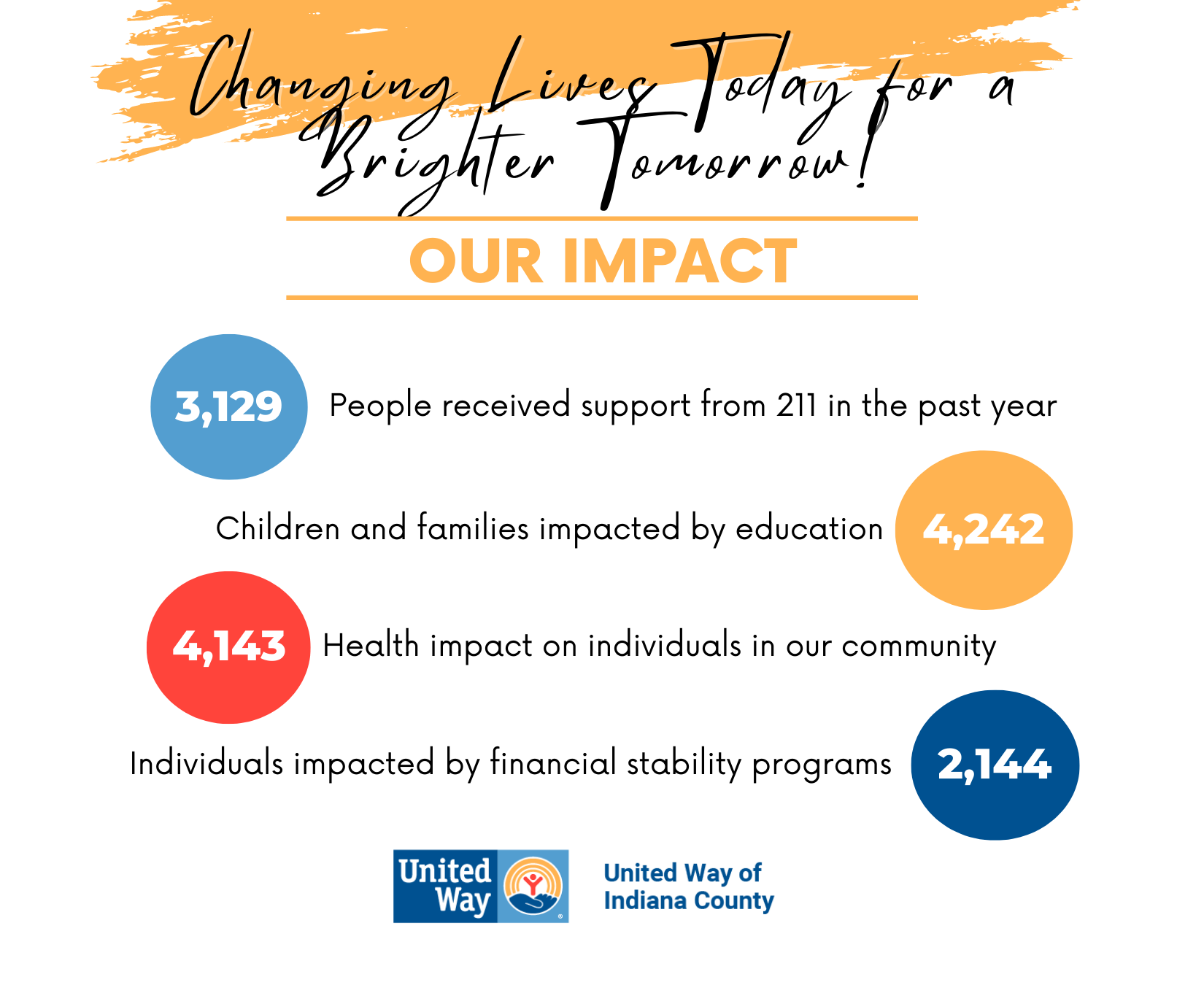 Our philosophy is that together, UNITED, we can accomplish more than any one person or single agency could alone. The United Way understands that the challenges our community faces can seem overwhelming. But change is possible when we pool our resources, our expertise, and our efforts, and focus on the issues that matter most, to help those who need it the most, in ways that achieve the greatest impact.
Thank you for our shared commitment to improving the health, education, and financial stability of our community.
Your investment not only helps to create brighter futures but it will also qualify you to receive a ticket for our campaign raffle. Contributors who donate at least $50 per year to the UWIC prior to campaign close will receive a ticket for entry into the Tier 1 level raffle. All contributors who donate at least $208 per year; will receive a ticket for both Tier 1 and Tier 2 level raffles, along with the Grand Prize. Winners will be drawn on February 16, 2023. For official rules and regulations, please visit www.uwindianacounty.org/campaignraffle. 
Small Games of Chance #20211107  |  Special Raffle Permit # 20223009
GRAND PRIZE
Trip Package Valued at $2,500 - Donated by Colonial Motor Mart, Colonial Toyota and Mark Arbuckle Nissan
TIER ONE
​Overnight Stay at Hilton Garden Inn & Gift Certificate to CH Fields Craft Kitchen - Donated by Hilton Garden Inn & CH Fields Craft Kitchen
Decorative Concrete Garden Bench - Donated by ICTC
Lucy Rae Gift Basket - Donated by Lucy Rae
Nix Play 10.1' Smart Photo Frame - Donated in Memory of Blair Crusan
​TIER TWO
​Blackstone 36" Griddle - Donated by Romeo's Pizzeria & Mediterranean Kitchen
50" Smart TV - Donated by Reliant Holdings, Inc
Gas Patio Heater - Donated by Lowe's
2023 Family Pool Pass for Mack Park - Donated by YMCA